Product summary
Themis is a universal authentication infrastructure that utilizes IC card authentication, biometrics authentication (e.g. Fingerprint, Finger vain, Parm vain), and other various methods including passwords.
It supports a wide range of systems that require logins, such as Windows logon (Active Directory logon), networks, and applications. With Themis, you can freely combine them with authentication methods of your choice. This means that each system can use an authentication method that satisfies the security level that it requires, and this allows you to maintain a higher level of security in comparison to conventional authentication.
>Download Themis catalog (PDF)
* This video plays sound, and please be aware of your surroundings.
Basic system configuration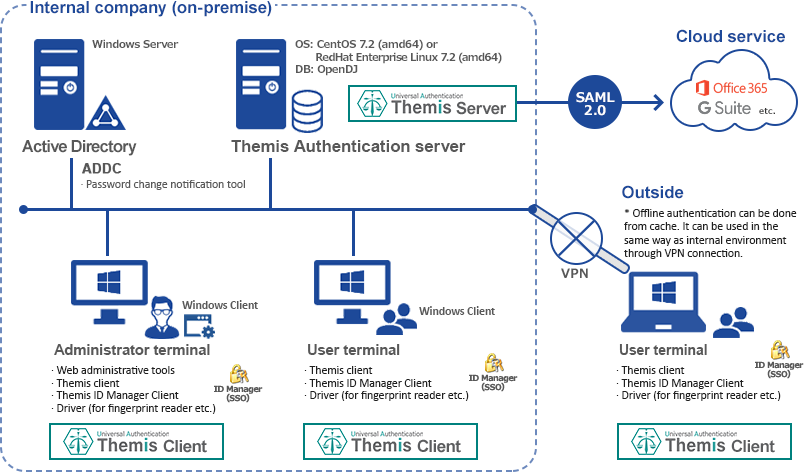 Main functions
Windows logon authentication with multifactor authentication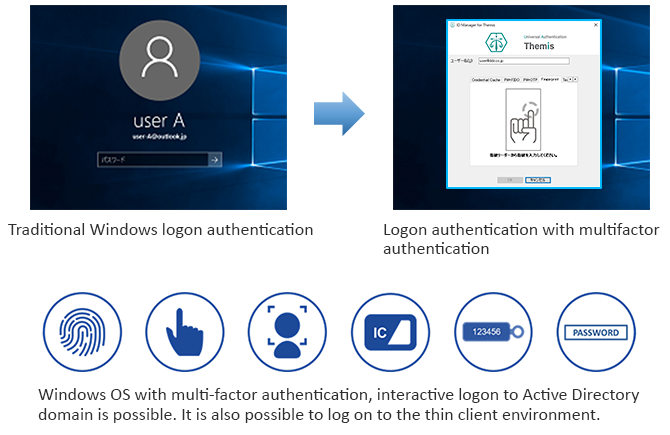 Single sign-on with multi-factor authentication (ID manager)


With Themis, you can log onto web pages on a browser or Windows applications automatically.
* It allows you to easily strengthen the authentication of existing applications without modifying their program.
* An unlimited number of applications can be registered.
* In addition to delegated authentication, it also supports federations, allowing you to set up a seamless SSO system using SAML (implemented using IE's ActiveX linking).
Administrative function
User administration using web administrative tools
Adding and deleting users
You can either add users using administrative tools or batch-import new users from a CSV file.
Adding and deleting groups
Users belonging to a group can be batch-configured.
Configuring authentication elements and authentication sets
You can batch-change configurations of domains, groups, and users. (Some settings can only be changed domain-by-domain.)
Configuring applications
Each application can be configured to accept or not to accept SSO using Themis and to use a specific set of authentication methods.
Log management using a log viewer
It displays security logs (whether an authentication attempt was successful or not, updates of user authentication details, and other audit logs), system logs (launching and quitting of applications, their connection status and errors, and other non-audit logs), and ID manager logs.
System requirements
These are the system requirements for the latest version of Themis. The system requirements for other versions can be found in the release notes included in the product package.
Themis Server (In the case of on-premise construction)
Hardware
・ CPU: 3GHz more recommended
・ HDD: It varies depending on the number of users and setting
・ RAM: 4GB more recommended
・ LAN: 100BASE-TX more
OS
・ CentOS 7.8 (amd64)
・ RedHat Enterprise Linux 7.8 (amd64)
Network
・ IPv4 Protocol
Themis Client
Hardware
・ CPU: 2GHz more recommended
・ HDD: Program 150 MB
・ RAM: 1GB more recommended
・ LAN: 100BASE-TX more
・ USB: 1 port or more
OS
・ Microsoft Windows 10 (x86/x64)
Display resolution
・ 800×600 more
Network
・ IPv4 Protocol
Device
fingerprint authentication unit: UBF-neo, UBF-Tri, UBF-Hello, UBF-micro, UBF-cube